EDMONTON TREX OUTDOOR KITCHENS
Red Isle Contracting Ltd. is proud to be Edmonton's only Trex Outdoor Kitchen Dealer.
We are able to obtain the best outdoor kitchen discounts available straight from the manufacturer and pass along the savings to you.
At Red Isle, we understand how important backyard spaces are, and we stop at nothing when it comes to upgrading your outdoor living area in the best way possible. And what better way to upgrade your outdoor space by adding a luxurious outdoor kitchen? A custom Trex outdoor kitchen is built to withstand the elements: from snow and ice to summer heat,  you can bring everyone together, no matter the season.
Edmonton is known for its beautiful summer months and long sunny days, and nothing beats enjoying the rays of sunlight in your own outdoor kitchen with company. We understand this and work to create a space where you can entertain and enjoy meals together at your own outdoor kitchen without the hassle of making reservations. While the winter season might be harsh, coming together to enjoy a fire and trying new recipes in your backyard kitchen with family and friends as snow falls around you creates joy that drives the cold away and memories for years to come.
More Than Just an Outdoor Kitchen
Backyard kitchens have transitioned from simply a place to prepare meals to an outdoor entertaining space and, as with any outdoor living area, function is a key component of enjoying your space.
Trex Kitchens are a high-end outdoor kitchen line that is designed to accommodate function with creative layouts. We offer an array of amenities for all your outdoor essentials that include outdoor kitchen appliances, bars, and more. With a new Trex outdoor kitchen, you have the opportunity to include a wide selection of top-of-the-line cooking appliances – such as grills and smokers – to more exotic options, as well as sinks and refrigerators.
There is no universal design when it comes to a high-end outdoor kitchen. Whether it is a luxurious BBQ island to blend in with the landscaping and match the patio furniture or looking to bring your kitchen's theme outdoors, Red Isle has the solution to all your needs. We offer various colour palettes and customizations for unlimited possibilities. With dozens of cabinet styles and configurations in hundreds of sizes, you have the freedom to create a unique outdoor living space that works for you.
Built to Last
With the Trex outdoor kitchens, you save yourself the constant worry that comes from the wear and tear of an outdoor kitchen from cold winters and salty ocean areas. With additional protection from powder coat finishes our stainless steel cabinets are built to withstand even the harshest of elements with minimal maintenance required.
Some of the many custom features for our Trex kitchens include:
We manufacture our cabinets with top-quality materials to ensure longevity and a flawless finish.
All doors, drawers and cabinet boxes are manufactured from 100% 304-grade stainless steel. 316 marine-grade is also available.
Our European-style frameless cabinets create a clean look, enhance functional space, and protect the cabinet box from the elements.
Our semi-custom line of cabinetry (available in 3" increments) – including wall, base and corner units – encompasses dozens of styles in hundreds of sizes, allowing for unlimited design possibilities.
Choose from 7 outdoor kitchen door styles with 14 powder coat colours and 9 realistic wood grain cabinet finish options to create uniquely personal designs.
Powder coating creates a virtually maintenance-free outdoor kitchen, providing durability and protection from the weather.
Our handcrafted doors, drawers, and boxes are finished with ground clean edges.
Doors feature soft-close stainless steel hinges, closure magnets and rain gasket
Trex Kitchens offers a lifetime warranty on our residential cabinets and a 7-year limited warranty on our powder coat finishes
As TrexPro Platinum-certified deck installers, Red Isle is the premier contractor for creating fully functional, signature outdoor kitchens. Our expert designers can turn an outdoor kitchen idea into reality.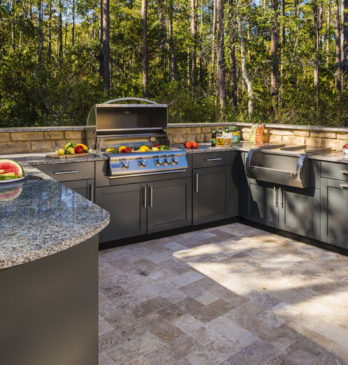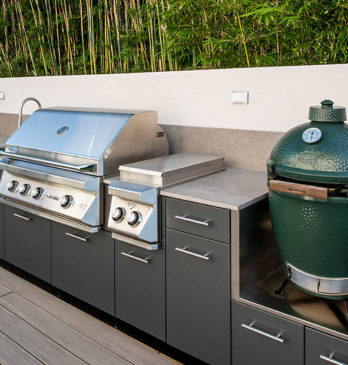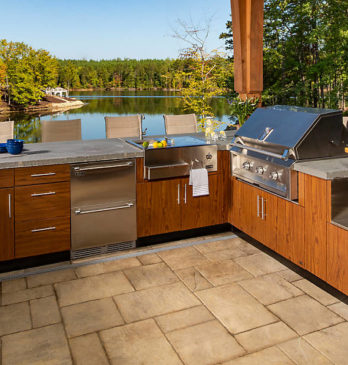 Edmonton Outdoor Kitchens FAQ
How do I protect my outdoor kitchen from the weather?
How do you run plumbing for an outdoor kitchen?
How do you keep outdoor pipes from freezing?
How far from the house should my outdoor grill be?
What are the advantages of an outdoor kitchen?
How much space do you need for an outdoor kitchen in Edmonton?
What are the best countertops to install in my Edmonton outdoor kitchen?
Is there a standard size for built-in grills in outdoor kitchens?
THE ONLY TREX PRO PLATINUM INSTALLATION IN EDMONTON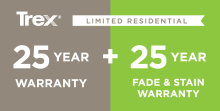 Contact us
For More Information