Pergolas & Gazebos Edmonton
Pergolas and gazebos make a perfect addition to your customized extended Edmonton living space and outdoor area and, for that reason, they are in high demand as an extension on custom decks. Both pergolas and gazebos enhance your outdoor space by adding architectural flair and an aesthetic canopy accent to your favourite outdoor Edmonton leisure area.
Upgrade Your Outdoor Living Space with a Pergola or Gazebo
The addition of customized pergolas or gazebo will make your outdoor living space that much more cozy and inviting. These projects add the right amount of ambiance and tranquillity to your outdoor space and Red Isle Contracting are experts in designing and building the most amazing, intricate, and carefully-crafted pergolas and gazebo projects.
Your neighbours will be green with envy over your new luxurious garden feature once your new pergola or gazebo is installed by our experienced professionals. Whether it is a pergola or a gazebo, either option offers a bankable architectural appeal and an inviting ambiance. Not only do gazebos and pergolas add a remarkable visual appeal to your outdoor space, but these additions offer plenty of utility to gardens and decking areas by providing plenty of shade for those long, hot summer days. Our unique and contemporary designs will no doubt help inspire your neighbours to invest in our custom outdoor additions as well.
Building Custom Pergolas and Gazebos Throughout Alberta
If you're deciding to spruce up your Alberta yard with a pergola or gazebo, Red Isle Contracting is here for you!
We provide services in the greater Edmonton area as well as throughout Alberta in the communities of Spruce Grove, Sherwood Park, Leduc, Devon, Beaumont, St.Albert, Stony Plain, Pigeon Lake, Wabamun Lake, Alberta Beach, and the Sylvan Lake area. Contact us today!
Gazebos in Store Locations Across Edmonton
A gazebo is really quite similar to having an extra room outside. You get a spot to relax in that is shaded and cozy, without the harmful UV rays from the sun damaging your skin. A gazebo is also perfect if you are the type of person that likes to entertain guests like neighbours or family members. It also serves as a secluded spot for you to enjoy some personal time and solitude. Regardless of the weather, rain or shine, sunny or cloudy, you can enjoy your gazebo all summer long.
Gazebos to Complement Your Edmonton Hot Tub or Garden
We have a huge selection of high-quality gazebos that will suit your yard no matter what the layout and design. From little gardens to huge lawns, we have a gazebo option that will give you a nice calm spot to relax in, or to cover your tub. Increase the comfort of your yard by adding a gazebo that will allow you to enjoy your outdoor space, even in harsh weather. You can choose between simple open-air structures and the most sturdy-walled gazebos. We have the gazebo for your Edmonton yard, no matter what your needs or requirements may be.
A covered hot tub provides a host of practical and luxurious benefits. Depending on which type of gazebo you opt for, some of the features and benefits include: protection from rain and snow, SPF shielding from the sun, a skylight to let in light and allow for cloud watching, drapes for increased privacy, adjustable lighting, screens to keep out pests, and stools or seats (all available as fully or partially-enclosed). Don't let mosquitoes, wasps, or other insects ruin your enjoyment of the outdoors this summer. Get a gazebo for your Edmonton backyard that will keep out all of those stinging and biting pests.
A Sheltered Enclosure for Your Edmonton Yard
A gazebo will afford you with endless hours of outdoor enjoyment and can be used as a shelter to protect you from the weather while you enjoy your gym, hot tub, or patio furniture. So why not take your outdoor gatherings with family and friends to the next level with a backyard gazebo? Your yard will truly be complete with the addition of a gazebo that will elevate the look of your home. You will simply love having an oasis to shelter you from harmful sun rays and rainy weather that will also make your backyard more beautiful than you can imagine.
Gazebos That Will Increase the Privacy of Your Yard
If you have a spa or a hot tub in your backyard, then a gazebo will add a great deal of privacy and enjoyment to its use. Red Isle has one of the largest inventories of gazebos in all of Edmonton. Whatever your need for gazebos may be, we have you covered both figuratively and literally! Our reputation is built on professionalism, customer service, and the quality of our gazebos. Red Isle is involved in a wide array of commercial and residential projects in Edmonton. We are not satisfied until you are satisfied with the finished project.
With You Every Step of the Way
We will go over your requirements and specifications as many times as we need to get it just right. Our experienced and knowledgeable team will help you plan every step of your project, answering all your questions along the way. Red Isle continues to lead the way in seeking out innovative products that will make your outdoor space perfect and relaxing for you. Our goal is to be the absolute best and most sought after gazebo supplier in Edmonton. Come in and see us today about your gazebo project and make your backyard dreams come true.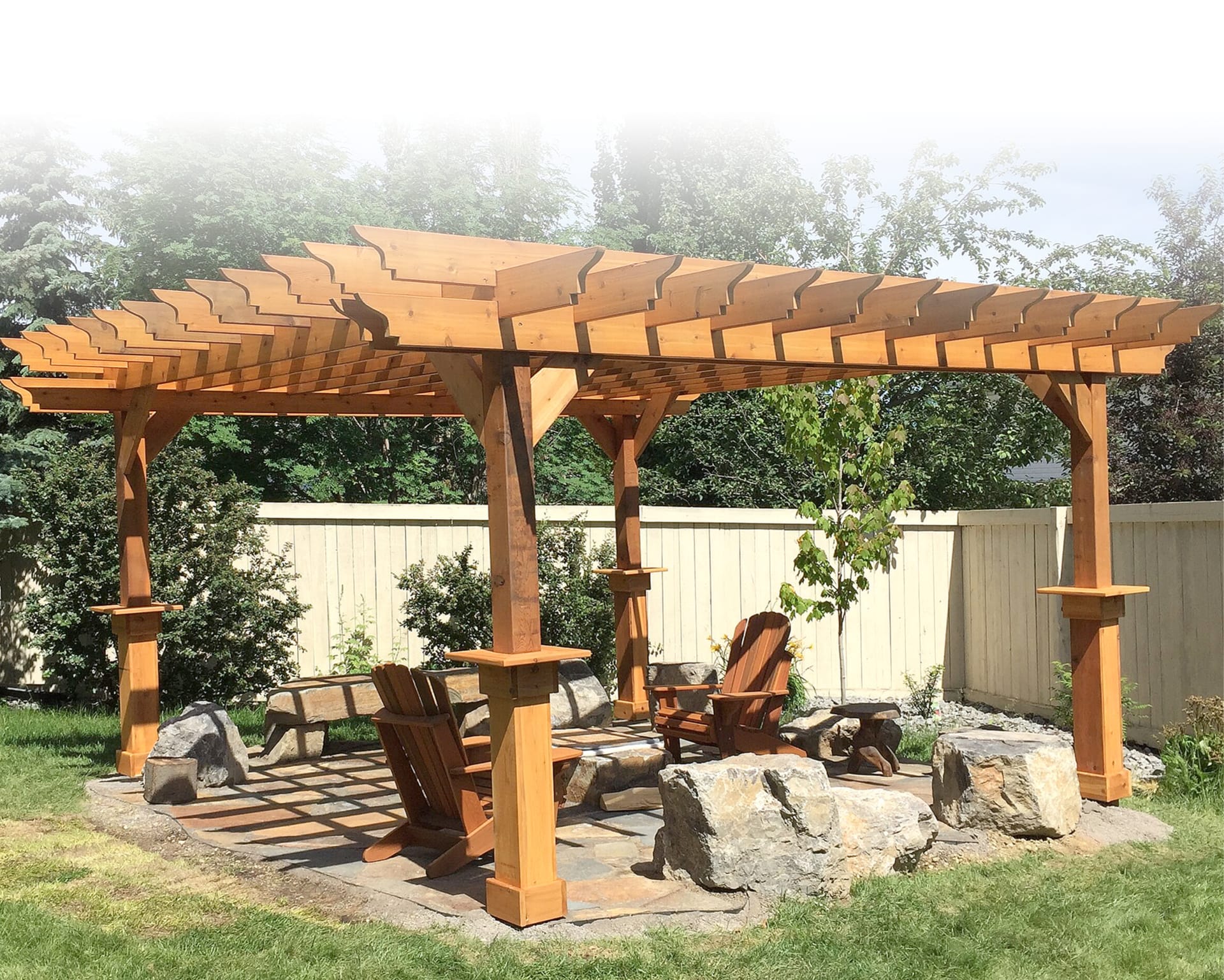 What is the difference between pergolas and gazebos?
How much does a new pergola or a gazebo cost to install?
Does Red Isle build custom projects?
Why should I choose Red Isle Contracting for my pergola installation?
Where is the best spot for a pergola in my yard?
What is the average height for a Pergola?
Are pergolas effective at blocking rain?
THE ONLY TREX PRO PLATINUM INSTALLATION IN EDMONTON